I'll Be You and You Be Me
by Ruth Krauss, Illustrations by Maurice Sendak
HarperCollins, June, 2001.
Picture Book, 48 pages.
ISBN: 0060284595
Ages 4-8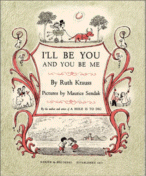 I'll Be You and You Be Me
is another one of those charming books that an adult can share with a child on a special level. The book is largely a collection of poems, little stories, collections of thoughts, plays and tales illustrated by the intuitive Mr. Sendak with small detailed drawings that can be enjoyed over and over. This is a gentle book for the very young. It is filled with simple little situations and friendly conversation with a general theme of kindness and love.
The play entitled "The Doll In Pink" sounds as if a child had written it. In a way, it is a model for a child learning to pretend and how to invent a story with a beginning, a middle and an end. In this little play a little girl has a great big doll, and it is snowing. The little girl has a problem: the doll is all dressed up, but has no coat. Then a big girl comes along and the little girl tells her that her doll is beautifully dressed, but has no coat. The little girl does not have enough room under her own coat for the big doll. She asks the big girl for help, and the big girl puts the big doll under her own coat and the little girl says "You're my friend." All of the stories and poems are simple and direct. Many opportunities for exploring feelings and discussing small things important only to the very young are expressed and illustrated with great understanding. It is a very good book to read with a very special young child.
--Sarah Reaves White
I'll Be You and You Be Me
is available for purchase on
Amazon.com
Reprinted with permission from The Internet Writing Journal®.
Copyright © 1997-2016 by Writers Write, Inc. All Rights Reserved.