The Samurai's Daughter
by Sujata Massey
HarperCollins, March, 2003.
Hardcover, 304 pages.
ISBN: 0066212901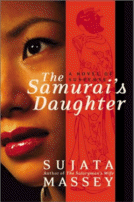 American antiques dealer and amateur sleuth Rei Shimura enjoys her life in Tokyo. Over the Christmas holidays, Rei goes to San Francisco to stay with her parents and to continue a research project she has started about the history of the Shimura family (her father's Japanese family). Rei's on again-off again boyfriend, Scottish lawyer Hugh Glendinning is also in San Francisco, working on a reparations case for victims of the Japanese during World War II. Soon Hugh's case collides with Rei's research, when an elderly witness in Hugh's case is murdered. Now he and Rei are in the middle of a mystery that could leave one or both of them dead.
Agatha and Macavity award-winning author Sujata Massey raises the bar in this sixth entry in her popular mystery series starring Japanese-American antiques dealer, Rei Shimura. Rei has to confront some complex questions about her own family's past loyalties. Rei's relationship with Hugh grows more complex, which is interesting, and although much of the action does not take place in Japan (one of the series' many appeals), the interesting plot and well-rounded characters make for a fascinating read.
The Samurai's Daughter
is available for purchase on
Amazon.com
Reprinted with permission from The Internet Writing Journal®.
Copyright © 1997-2016 by Writers Write, Inc. All Rights Reserved.